Get yourself ready for another awesome Aggressive Strength Talk interview.
If you don't know who Nick Nilsson is, it's time you find out.
I've been following Nick for a LONG time now.
Even before I started my gym The Forged Athlete, I remember listening to interviews with Nick and applying some of his unconventional ideas and methods into my training from his many different and highly unconventional training resources.
From muscle building techniques to extreme fat loss methods, I've applied a lot of his stuff with great success.
When I finally got a hold of Nick and asked him to do this interview and he accepted, I was freaking pumped.
My BIG respect of Nick is that He WALKS the WALK. 
His nickname is "The MAD Scientist of Muscle" which is due to his constant process of experimenting his different methods on himself within his "hardcore basement gym". 
In this Aggressive Strength Talk Session you'll discover…
How this "Hard Gainer" Ectomorph gained 75 lbs of muscle in 8 months
How to DEADLIFT 5 Days Straight and Still Get Stronger and Add more muscle onto your frame
Against the grain training that WORKS.
Discover a NEW look at density training called "TIME VOLUME Training"
Resistance cardio hybrid training = Will get YOU LEAN
Plus more!
Click The Logo Below To Download MP3:
CLICK HERE TO DOWNLOAD THE INTERVIEW
Questions, Thoughts, Comments?  Drop them below!
Live and Train Aggressive!
PS – If you're SERIOUS about packing on some muscle, I'd check out Nick's 28 Day MUSCLE EXPLOSION System.
This is what he mentioned within the interview and I'll tell ya, it's INTENSE.  Only 4 Weeks long, but it's INTENSE.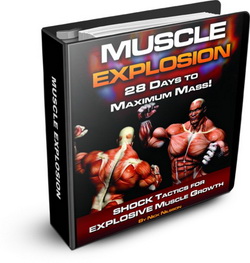 I give you fair warning…
THIS IS NOT FOR THE FAINT at HEART ——–>
PPS – Stay tuned for even more "MAD SCIENTIST" madness…