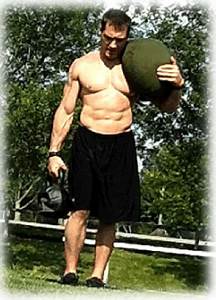 When it comes to having a HOME GYM, it doesn't need to be anything crazy.
You don't have to have all of the fancy bells and whistles.
Just the BAREBONES BASICS.
To help you put together your own personal HOME GYM, I've created a quick, go-to list for you to use.
I'll start with the top ESSENTIALS I feel you definitely NEED…
Of course, if you don't have ANY of these items you'll still be set because you can always use your own BODYWEIGHT if anything else…
1 – KETTLEBELLS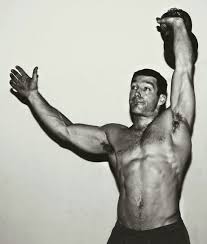 I'd recommend you have a few different sizes so you can use them for different things.
Ideally, if you can have TWO of each, even better but ONE of each size would suit just fine.
I'd recommend these sizes:
44 lbs
53 lbs
62 lbs
70 lbs
As far as loading goes, I recommend you MASTER the ability to use a 53 lbs kettlebell.
In other words, you should be able to hit every single movement imagable with a 53 lbs bell. That's the STANDARD.
As for WHERE to get your Kettlebells from?
I recommend a few different places depending on availability and cost.
–> Kettlebell Kings
–> Dragon Door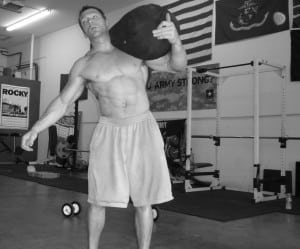 2 – Sandbags
Sandbag training is what I first built my business with back in the day!
It's the minimalist approach to building more powerful strength and amazing fitness.
You can either build your own or you can invest in a professional made Sandbag from Brute Force.
They have different sizes for you to use.
For most men, I recommend getting the "Strongman" sandbag kit because you can load it up to be HEAVY or you can always take some weight away and go lighter if need be.
The 'Athlete" sized bag is solid as well but tops out at 75 lbs or so.
3 – Jungle Gym Straps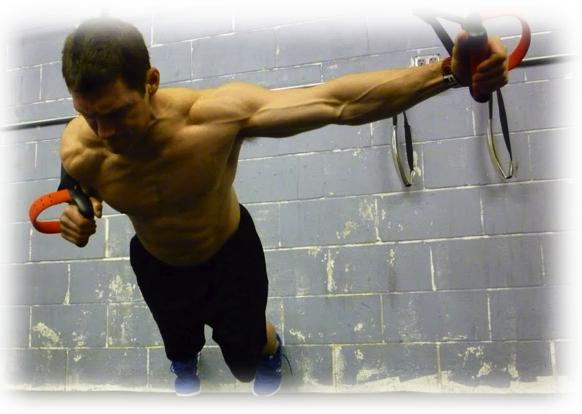 To help open up the ability to PULL and ROW with limited options and equipment, I STRONGLY suggest you get yourself a set of "Jungle Gym" straps.
With these, you can do a variety of Recline Rows, Assisted Pull Ups, Suspended Push Ups, plus a ton of CORE training movements.
TRX is a solid choice as well but I prefer Jungle Gym Straps over TRX because the straps are separate so it makes doing Push Ups, Recline Rows, and even Pull Up variations easier to do.
4 – Additional Key Items
Some odds-n-end items I feel are quite essential but NOT mandatory to have in your Garage Gym…
Exercise Bands (I highly recommend Wodfitters)
Pull Up Bar (Door Version)
Floor / Furniture Sliders
Wood Plyo Box
Ab Roller (you can easily make these)
Weight Vest
PROGRAMMING
If you need "at-home" workouts, I GOT YOU.
There's a wide variety of selections…
The Bags, Bells, and Bodyweight Training System – CLICK HERE
Garage Build Body – CLICK HERE
Kettlebell RX – CLICK HERE
Daily DAD BOD Destroyer – CLICK HERE