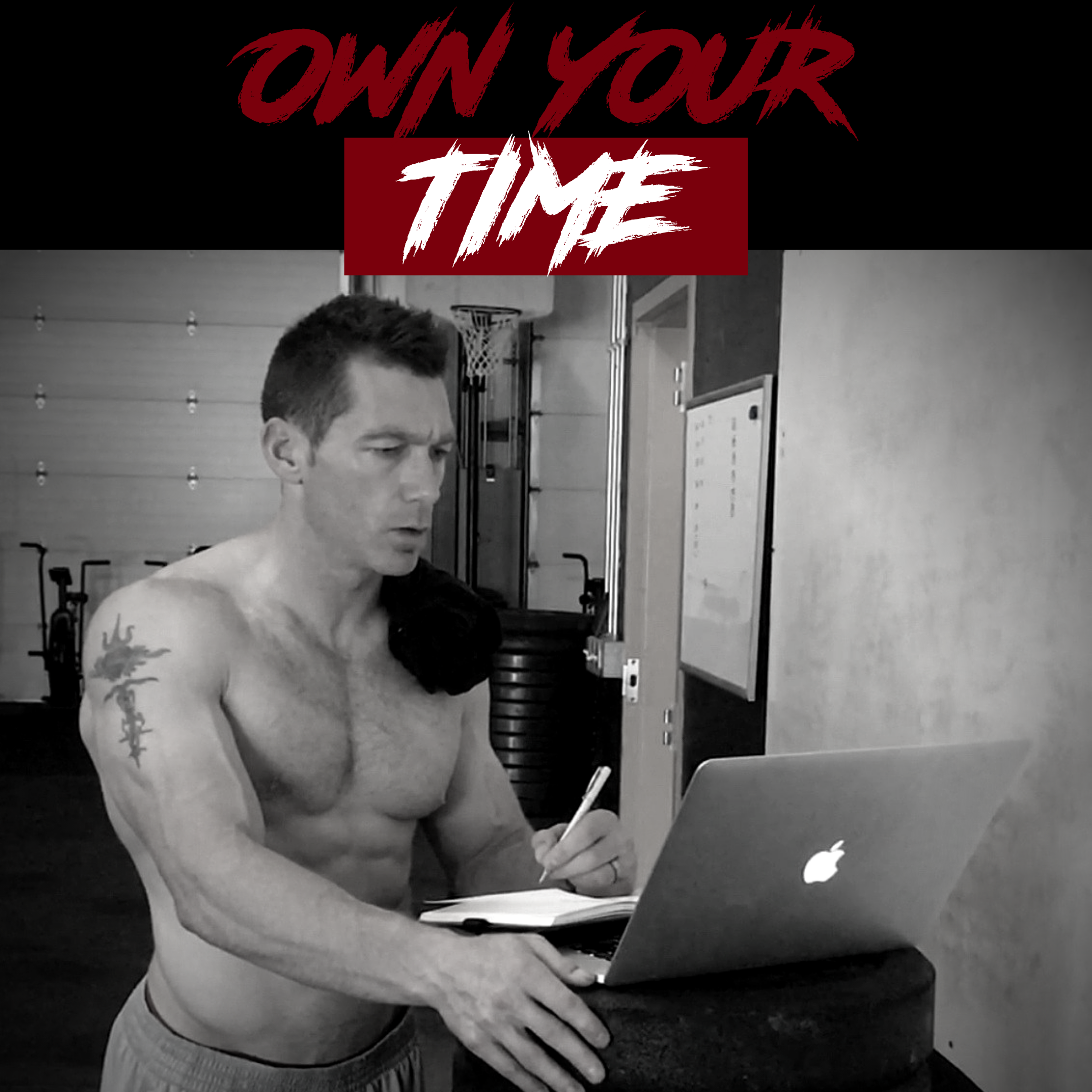 OWN Your TIME
I know we all have only so many hours in the day.
24 of them to be exact and we all have the SAME amount.
So what's the difference between the guys who get a LOT of stuff done Vs those who are simply, "TOO BUSY"??
What's the 'secret'?
It's all about who OWNS Their TIME Better.
Here's how to do it:
1 – PLAN and PRIORITIZE Your ACTIONS
Start out with asking yourself — what are the MAIN OUTCOMES I want to achieve in the coming week?
Want to get stronger, leaner, fitter?
Want more time with my family?
Want to make more money?
Cool?
How do you get that done?
Through ACTIONS.
Actions create OUTCOMES so you need to PRIORITIZE your ACTIONS.
Start with PLANNING them out.
I typically limit this to 3 BIG TARGETS or "OUTCOMES" for the week.
For fitness, I'll say I want to hit 5 maybe 6 workouts for the week.
For FUEL, I'll say I want to hit my MACROS 6 days of the week.
For FAMILY, I'll schedule in the times I want to be fully focused in on them and nothing else.
2 – Dedicate To DISCIPLINE
Now that you have everything laid out and planned, it simply comes down to YOU being DISCIPLINED with your time.
If it's scheduled, get the shit done.
If it means you have to wake up an hour earlier than you normally do so you can get your training session done for the day, YOU DO IT.
AND yes… even when you're 'unmotivated' to do so, you still DO IT.
DEDICATE to DISCIPLINE.
3 – Last but not least…
Be a RELENTLESS ACTION TAKER.
In other words… just TAKE MORE ACTION.
Outcomes are only accomplished through proper ACTIONS.
So the answer lies within that right there…
Want more OUTCOMES = TAKE MORE ACTION.
Bottom line — if you feel you're "too busy", you're NOT.
You just haven't figured out how to OWN YOUR TIME just yet (or you haven't made it a priority).
It can be done.
Even the busiest of the busy can get it done.
I've worked with some BUSY guys who work 12+ hour days who also have to haul kids around, do all of the chores at home, etc and they still MAKE it happen.
It comes down to how bad you want it.
So, how bad do you want it?
Pretty bad??
Cool, now how COMMITTED are you to getting it?
Now Go PROVE IT.
PS – One of the things we do inside The Forged FATHER Project is we dial in on making our days more efficient.
This all starts with getting control of and OWNING YOUR TIME.
If you need help with this and you're ready to make some big life changes, tap the link below and APPLY for the NEXT Forged FATHER Project.
–> http://www.theforgedfather.com/edge